Holiday Gift Guide Day 5: Gifts Under $25
 Contributed by Melinda Davison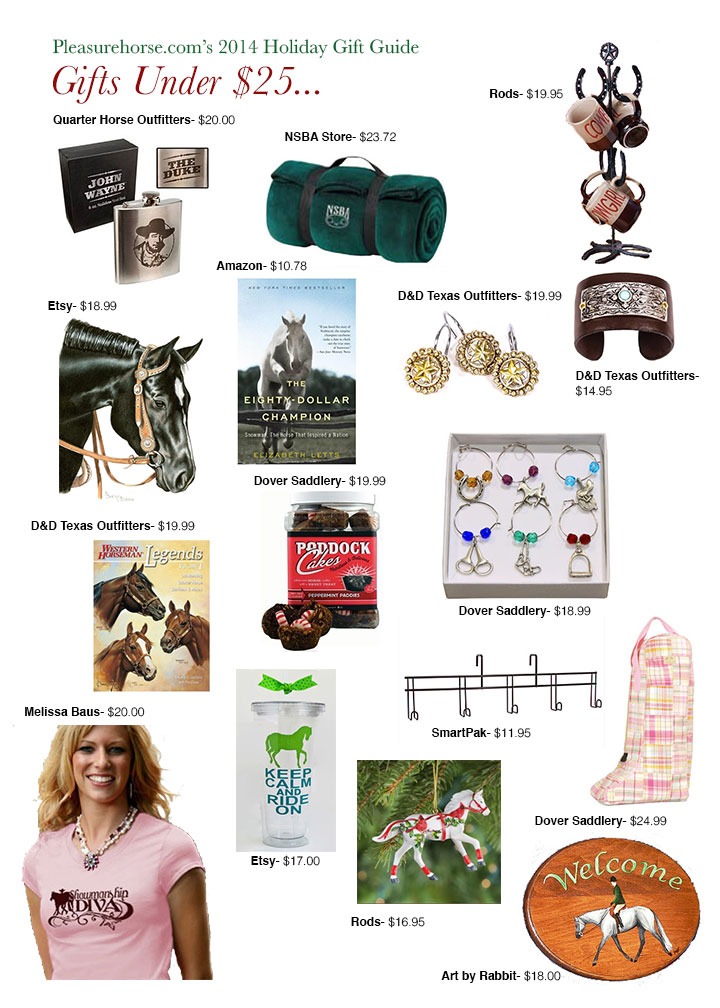 Budgets are tight, but we always want to get a little something for the people we know and love during the holiday season.  We've rounded up a list of gifts for under $25 that are sure to do both jobs of bringing a little joy to friends and family and not breaking the bank.
Rods- Horseshoe Mug Tree ($19.95)
Dover Saddlery- Equine Couture McKenzie Boot Bag ($24.99)
Etsy- Black Quarter Horse Mare Portrait ($18.99)
D&D Texas Outfitters- Outstanding Quarter Horse Stallions and Mares ($19.99)
Art By Rabbit- Hand-painted Welcome Sign ($18.00)
Rods- Christmas Canter Painted Pony Ornament ($16.95)
Dover Saddlery- Equestrian Wine Charms ($18.99)
D&D Texas Outfitters- Brown Bangle Women's Bracelet ($14.99)
Custom Items from Melissa Baus- Showmanship Diva Shirt ($20.00)
Etsy- Personalized Acrylic Tumbler ($17.00)
D&D Texas Outfitters- Concho Shower Hooks ($19.99)
SmartPak- 5 Hook Portable Tack Rack ($11.95)
Dover Saddlery- Peppermint Paddies Horse Treats ($19.99)
Amazon- The Eighty-Dollar Champion ($10.78)
NSBA Store- Fleece Blanket ($23.72)
Quarter Horse Outfitters- John Wayne Steel Flask ($20.00)
 Still to come "For the Horse-Crazy Kids" and "For the Show Pen"!
Previous gift guides: