DeGraff Stables Stallion Booking Discount Deadline – 1/31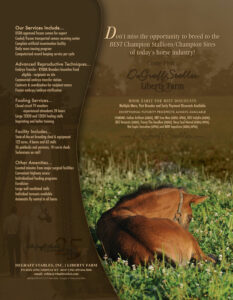 DeGraff Stables, Inc., in Midway, Kentucky at Liberty Farm is celebrating 26 years in business!
Click here for a printable copy of DeGraff Stables newest flyer regarding stallion and mare care services. They would like to remind mare owners to book early for their best breeding discounts to any one of these championship stallions: DGS IndyGo, DGS Vestastic, Frosty the Goodbar (AQHA/ARHA), HBF Iron Man (AQHA/APHA), Hes A Cool Hotrod (AQHA/APHA), Hot Lopin Sensation (APHA), Indian Artifacts (AQHA/AWR) and MDR Impulsive (AQHA/APHA)!
Visit them at www.DeGraffStables.com and view each individual stallion's 2011 Breeding Fees and Discount pages. Book early for your best discount! The first deadline for the greatest discount is January 31st. You will also find that there are futurity breedings left for most stallions. If you would like them to reserve one of the available futurities, they would be happy to. In addition, half of your booking fee, if paid in January, will be donated to the Black Stallion Literacy Foundation!
They would also like to take this opportunity to invite you to help promote their stallions in the new Season of Excellence contest as developed by the Horse Coupon Book! Each stallion owner has donated a Free Breeding to the lucky winner of the essay contest that begins February 1st and ends on the 28th! You may find the contest details by visiting www.SeasonOfExcellence.com and, if you "LIKE" our stallions, please register your opinion by looking them up and "LIKING" them! You will find HBF Iron Man, Hes A Cool Hotrod, Hot Lopin Sensation and MDR Impulsive in the APHA STALLIONS SECTION, DGS Indygo and Indian Artifacts are listed in the AQHA HUNTER UNDER SADDLE SECTION and DGS Vestastic and Frosty the Goodbar are listed in the AQHA WESTERN PLEASURE SECTION.
DeGraff Stables is looking forward to working with you in 2011!