Horse Shows
All American Quarter Horse Congress
The All American Quarter Horse Congress is the World's Largest Single-Breed Horse Show. The show receives more than 17,000 horse show entries and will house more than 8,500 registered American Quarter Horses during its three-week schedule. The Congress attracts more than 650,000 people to the Columbus area, bringing more than $180 million to the central Ohio economy.
Congress 2012 Results & Info
Congress 2011 Results & Info


Reichert Celebration
2012 marks the second year in Ft. Worth, Texas for the Reichert Celebration! Show dates will be August 30 – September 9, 2012, at the Will Rogers Memorial Center. Reichert Celebration show management, Terry Schroeder and J.R. Reichert have always wanted this show to provide opportunities for all riders and horses. "Our goal has always been to include everyone, no matter what level of rider or breed of horse."
Reichert 2012 Results & Info

Reichert 2011 Results & Info
Appaloosa Horse Club Shows
The Appaloosa Horse Club offers programs suited to each member's individual needs and goals, including Non-Pro and Youth programs. Becoming involved in ApHC show programs opens the door to a world of challenge and excitement. Join a tradition of excellence and thousands of ApHC competitors; there's no limit to what you can achieve!
2012 National Appaloosa Horse Show & World Championship Appaloosa Youth Show
2012 World Championship Appaloosa Show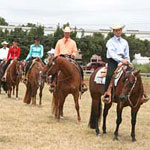 Tom Powers Triple Challenge Futurity
Started in 1980, The Tom Powers Futurity is the oldest continuously operating pleasure futurity in the World. After 31 years, entries now total well over 1000 and paybacks for last year were over $275,000.00 plus trophies and special awards! This Berrien Springs, Michigan event is unique in that it still held outdoors.
Tom Powers 2012 Results & Info
Tom Powers 2011 Results & Info
Southern Belle Invitation – Breeder's Day Events and Affiliated Shows
Thursday, June 28 at the Triple Challenge Futurity will feature the SOUTHERN BELLE BREEDER'S DAY. Fourteen Breeder's classes will be offered with the highlight of the day being the 3 Year Old $2500 Novice Horse Western Pleasure Slot Class with an estimated purse of $50,000.00!
Additionally, the Southern Belle has decided to combine their Southern Belle Invitation July 2012 show with The Stars and Stripes and The Big A 2012 show. The combination of our affiliations with high profile shows, now allows us to guarantee more added money than previously in the history of The Southern Belle Invitation.
Southern Belle Breeder's Day at Triple Challenge Futurity 2012
Southern Belle and Stars and Stripes/The Big A 2012
Southern Belle 2011 Results & Info