Pleasurehorse.com's Holiday Gift Guide: For the Barn God/Goddess
Contributed by Melinda Davison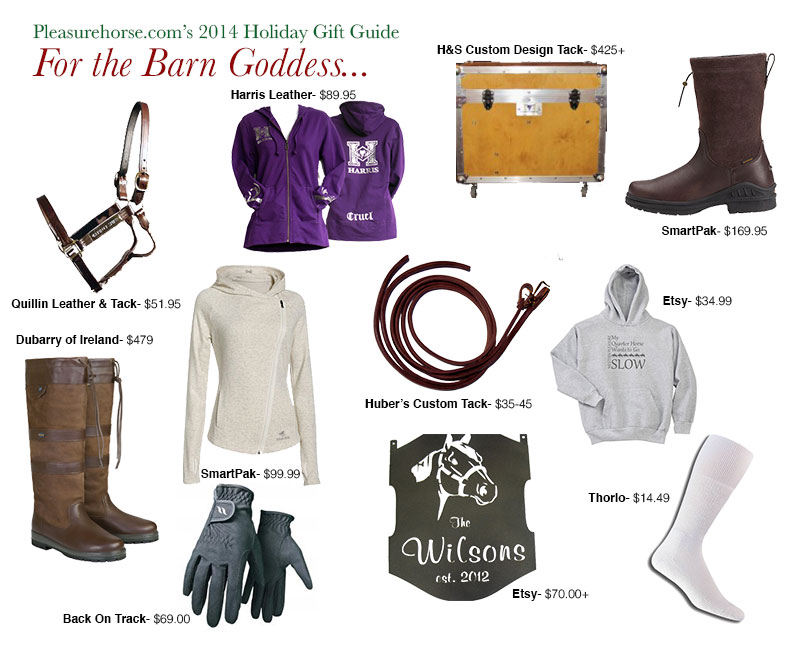 It's that time of year again!  The excitement of the holidays is here, and in the midst of all the festivities, shopping can be both delightful and yet, a chore.  Pleasurehorse.com is here to make it a little bit easier with our 2014 Holiday Gift Guide. Each day this week, we will bring you some of our picks for hot gifts by gift recipient.  From all price points and stores, we've searched high and low to offer gift suggestions to make everyone on your list delighted.
Day 1: Gifts for the Barn God/Goddess
We all know someone who works tirelessly around the barn, so why not show them your appreciation with one of these gifts from our list.  
Harris Leather- Cruel Girl Purple/Silver Foil Hoodie ($89.95)
SmartPak- Ariat Barnyard Belle H2O Boot ($169.95)
Etsy- Personalized Metal Sign ($70.00+)
SmartPak- Under Armour Urban Uptown Hoody ($99.99)
Huber's Custom Tack- Coconut Oil Reins ($35.00-45.00)
Thorlo- TWD Western Dress Socks ($14.49)
Etsy- Western Pleasure Slow Quarter Horse Ash Hooded Sweatshirt ($34.99)
Dubarry of Ireland- Dubarry Galway SlimFit GORETEX Lined & Waterproof Signature Leather Boot ($479.00)
Quillin Leather and Tack- Quarter Horse Mare Halter ($51.95+)
H&S Custom Design Tack & Gear Boxes- Small Tack Box ($425.00+)
Back On Track- Riding Gloves/Outdoor Gloves ($69.00)
Stay tuned in the next few days for the upcoming gift guides:
For the Cowboys
For the Bling Queen
Stocking Stuffers for All Ages
Gifts Under $25
For the Horse-Crazy Kids
For the Show Pen