Holiday Gift Guide 2014 Day 3: For the Bling Queen
Contributed by Melinda Davison.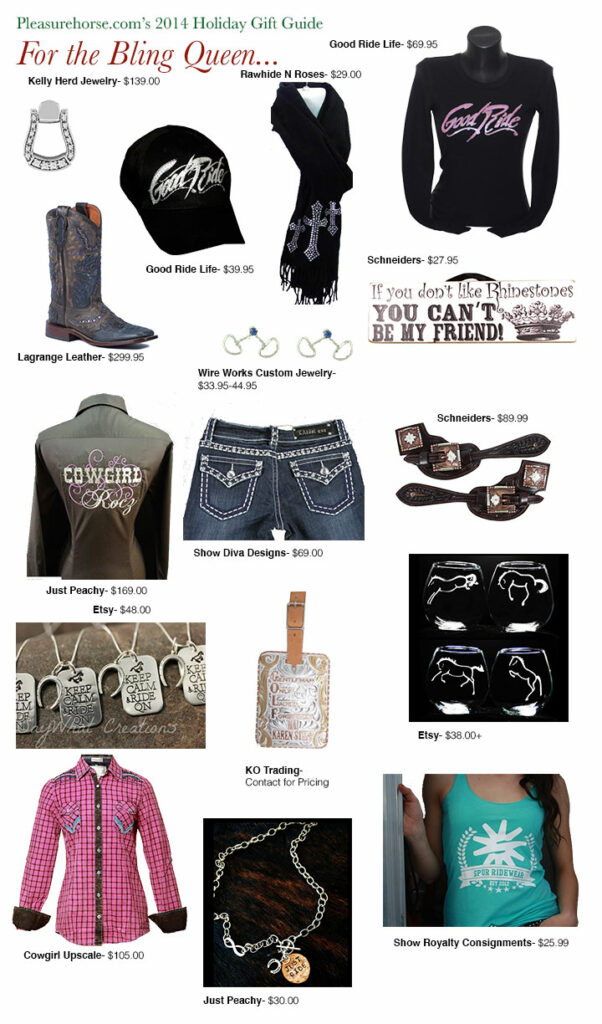 It's Day 3 of the Holiday Gift Guide and today we're bringing you lots of sparkly items for those who love the bling!  It's all glitter and glitz for your favorite glamor girls, so take a look at what we've compiled for you and be ready to get your shopping on.
Etsy- Etched Boxed Set of Four Stemless Wine Glasses ($38.00)
Just Peachy- "Just Ride" Lucky Penny Necklace ($30.00)
Lagrange Leather- Chocolate Black Wingtip Comfort Boot ($299.95)
Good Ride Life- On A Ride Thermal ($69.95)
Just Peachy- Cowgirl Rocz "Retro" Fitted Oxford Show Shirt ($169.00)
Schneiders- Rhinestone Cowgirl Sign ($27.95)
Wire Works Custom Jewelry- D Bit Earrings ($34.95-44.95)
Kelly Herd Jewelry- Stirrup Pendant ($139.00)
Schneiders- Billy Royal Corral Dark Oil Spur Straps ($89.99)
Show Diva Designs- Rhinestone Jeans ($69.00)
Cowgirl Upscale- Roar Star Dance Button Down Shirt ($105.00)
KO Trading- Custom Hanging Bag Tag (Contact for Pricing)
Rawhide N Roses Boutique- Black Crystal Triple Cross Scarf ($29.00)
Show Royalty Consignments- Collegiate Racerback Tank ($25.99)
Etsy- Keep Calm and Ride Qn Necklace ($48.00)
Good Ride Life- Back Seat Rider Cap ($39.95)
On deck:
Stocking Stuffers for All Ages
Gifts Under $25
For the Horse-Crazy Kids
For the Show Pen
Earlier Gift Guides: For the Barn God/Goddess and For the Cowboys