Fort Worth to host Reichert Celebration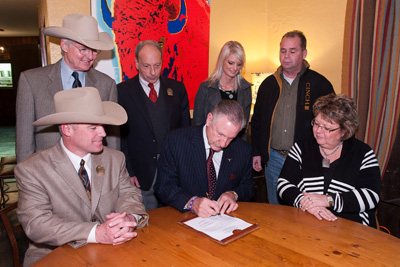 Press Release from City of Fort Worth, Texas.
Representatives from the Reichert Celebration signed a letter of intent Friday, January 18 to bring their world-renowned horse show to Will Rogers Memorial Center for five years.
This year's show is set to roll into the center Sept. 2-11.
Heralded in equestrian circles as the top all-breed horse show and futurity, the Reichert Celebration began in Iowa in 1999 before moving to St. Louis and, most recently, Tulsa, Okla., as the show expanded. In 2010, Reichert drew more than 12,000 entries from all 50 states, Canada and Europe.
By coming to Fort Worth, organizers J.R. Reichert and Terry Schroeder were able to accommodate calendar changes for organizations that participate in the show, shifting the event from August to September. With Fort Worth's historic, cultural and entertainment offerings, they hope to attract even more entries.
"Fort Worth is a little farther away for our northern friends," Reichert said, "but I think our exhibitors and spectators are going to jump at the opportunity to show at this world-class facility."
Public Events Department Director Kirk Slaughter said Reichert's move to Fort Worth highlights how the City's commitment to first-class equestrian facilities maintains Will Rogers' reputation in the industry.
"We stay on top by signing the best shows and by keeping our facilities ahead of everyone else's," Slaughter said. "Reichert Celebration is one of the best, and we're confident our location and investment in amenities are the perfect combination for them to keep growing."
The City's investment in amenities includes a new Equestrian Center, set to open in early 2012. The new facility will boost the number of horse stalls to more than 2,700 and add two indoor exercise areas, freeing up indoor exhibit space currently used to expand capacity.
For City leaders, the return on investment is already starting to show.
"We need visitors to eat in our restaurants, shop in our stores and stay in our hotels to keep our economy balanced," Fort Worth Mayor Mike Moncrief said. "Horse shows make up an $11 billion industry, and bringing a major show like Reichert to Fort Worth helps us achieve that balance."
With Tulsa seeing nearly $20 million in economic impact from the 2010 Reichert Celebration, Moncrief said Fort Worth businesses will be champing at the bit this September.