APHA as Part of Your Pre-Superbowl Activities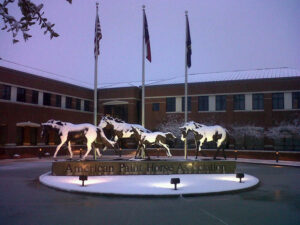 FORT WORTH, Texas – Fort Worth is the ESPN headquarters for the television coverage of Superbowl XLV, held at Cowboy Stadium in nearby Arlington, Texas, this year. Superbowl attendees can get the full experience of the land of Cowboys, Cowtown and Paint Horses by visiting some of the area's Western attractions.
One stop to include in your plans is the international headquarters of the American Paint Horse Association (APHA), the second largest stock horse breed registry in the U.S. Conveniently located two blocks east of I-35 W in north Fort Worth (and only ten minutes from the historic Fort Worth Stockyards), the headquarters is easy to spot. Just watch for the larger-than-life bronze Paint Horse statues in front of the building. Visitors can never pass up the photo opportunity these gentle giants provide.
APHA's friendly staff will welcome your visit, give a personalized tour and recount some of the history of the Association as well as inform you of what is going on in today's world to preserve and promote the American Paint Horse breed. Be sure to shop in the General Store located in the lobby and take home that perfect Paint Horse souvenir to commemorate your visit. The APHA headquarters is open Monday-Friday, 8:30 a.m. – 4:30 p.m.
Another great stop is the Fort Worth Stock Show & Rodeo taking place now through February 5th at the Will Rogers Memorial Center. The historic event is in its 115th year and encompasses numerous breeds and types of livestock, a top-notch daily rodeo, carnival, tradeshows, demonstrations, livestock sales, cowboy poetry, music and dancing along with a wide variety of food.
While you are at there, be sure to stop by the Brown-Lupton tradeshow and say "howdy" to the staff at the APHA booth. There is plenty of free literature about the American Paint Horse along with a drawing for a free 1-year subscription to the Association's monthly award-winning magazine, the Paint Horse Journal.  The tradeshow hours are 10:00 a.m. – 8:00 p.m. daily through Saturday, February 5.
More About APHA
Currently, American Paint Horses are being registered at APHA's Fort Worth, Texas, headquarters at a rate of more than 30,000 horses each year. APHA has registered more than 981,000 horses in 59 nations and territories since it was founded 49 years ago, and now serves approximately 85,000 active members around the world. APHA, a non-profit organization, prides itself on community involvement and educating the public about the beauty and talent of the breed. Among its many activities, APHA works to preserve bloodlines and maintain the outstanding characteristics of Paint Horses. For more information, visit the Association's website at apha.com or call (817) 834-APHA (2742).
Photo courtesy APHA.