2014 Holiday Gift Guide Day 2: For the Cowboys!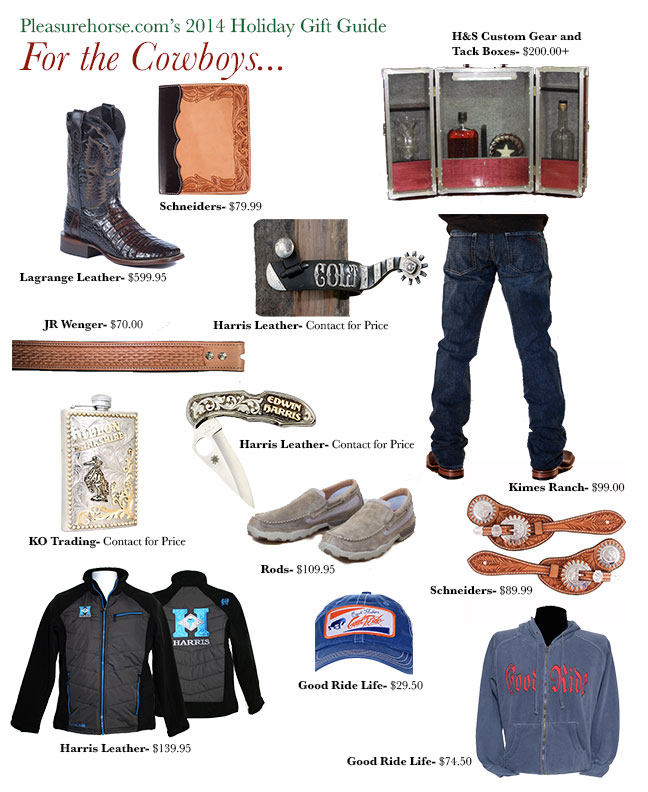 It's Day 2 of Pleasurehorse.com's 2014 Holiday Gift Guide, and today it's all about those cowboys!  We all know one or two fellas who can be hard to buy for so we're here to give you a hand and get those creative juices flowing.  Does he need some fashionable duds, custom silverworks, or training gear?  We've got you covered!
H & S Custom Gear and Tack Boxes- Custom Booze Box/Liquor Case (starting at $200.00)
Schneiders- Leather iPad Case ($79.99)
Lagrange Leather- Brown Black Mystic Full Foot Caiman Comfort Boot ($599.95)
Harris Leather- Custom Spurs (Contact for Pricing)
JR Wenger- Leather Stamped Belt ($70.00)
Kimes Ranch- Johnny Dark Rinse Jeans ($99.00)
Harris Leather- Hand Engraved Knife (Contact for Pricing)
KO Trading- Engraved Flask (Contact for Pricing)
Rods- Twisted X Men's Slip-on Driving Moccasin ($109.95)
Schneiders- Billy Royal Silver Plated Cowboy Rowel Spur Strap ($89.99)
Harris Leather- Cinch Polyfill Hybrid Jacket ($139.95)
Good Ride Life- Rushmakers Ball Cap ($29.50)
Good Ride Life- Bentley Rides Hoodie ($74.50)
Still to come:
For the Bling Queen
Stocking Stuffers For All Ages
Gifts Under $25
For the Horse-Crazy Kids
For the Show Pen
Missed yesterday's "For the Barn Gods/Goddesses"?  Find it here!